#EverywhereBookFest Panel May 1-2
Hello Friends,
I'm overjoyed to announce that I'll be on a panel next month at the #EverywhereBookFest with the amazing Linda Sue Park and Gail Carson Levine. We'll talk about writing and our recent middle grade historical fiction books. Please join us!
I'll post the day and time as soon as I know.
With gratitude,
Anne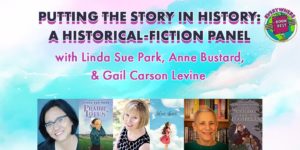 Posted in
News
on 04/13/2020 06:21 pm