About Anne
Born in Hawaii, author Anne Bustard is still a beach girl at heart. If she could, she would walk by the ocean every day, wear flip-flops, and eat nothing but fresh pineapple, macadamia nuts and chocolate. Growing up, Anne took years of hula lessons and spent many happy hours wearing a facemask and breathing through a snorkel. Her small sea glass collection from childhood is one of her most treasured possessions.
Anne loves school. And she has a lot of degrees to prove it. Three came from the University of Texas at Austin (BS, MLIS, PhD). Her most recent one, and she believes her last, is an MFA from the Vermont College of Fine Arts in Writing for Children and Young Adults.
Children's books have always been central to her life. When she taught in elementary schools and universities, she always used literature. Anne co-owned Toad Hall Children's Bookstore in Austin, Texas, too. As a bookseller, she loved opening up new boxes of books, telling others about them and running a summer writing program for children.
Anne is the author of several works for young readers including award-winners Buddy: The Story of Buddy Holly (Paula Wiseman Books/Simon & Schuster Books for Young Readers) and Anywhere but Paradise (Lerner).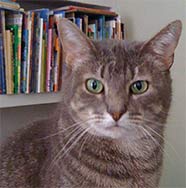 In Spring 2020, her next middle grade novel, Blue Skies (Simon & Schuster Books for Young Readers) and RAD! her first fiction picture book, illustrated by Daniel Wiseman (Abrams Books for Young Readers) will be published.
Anne recently married her college sweetheart and divides her time between Ontario and Texas.