Happy Book Birthday to BLUE SKIES today!
Hello friends,
It is with great joy that I celebrate the release of BLUE SKIES today!
My first draft of this story was a picture book, written over fifteen years ago, and now it is a published middle grade novel. I couldn't be happier!
To read more about my writing journey, visit the BLUE SKIES page on my website and click on the Links. It's been my honor to be featured on several blogs and I am adding them to the Links section as they go live.
Keep well.
With gratitude,
Anne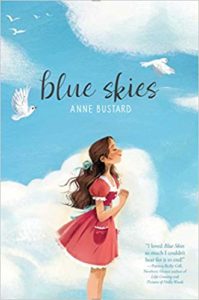 Posted in
News
on 03/17/2020 11:24 am