Mail from readers is the BEST!
Aloha, friends,
I received the BIGGEST thank you card ever, along with a host of individual notes from a recent school visit!
Here's a picture of it along with one of the letters: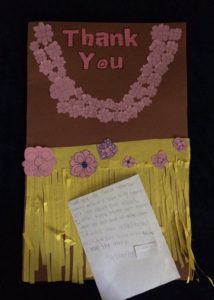 The letter reads: "Thank you for sharing your life's journey with us I loved it. My favorite part was about the school. I never knew there was a school where you don't have to wear shoes. I'd love that school to be mine. But I'm sticking with Kocurek. I love the story. Sincerely,___"
For context: I mentioned that back in the day, students in Hawaii were not required to wear shoes to school until seventh grade.
School visits are the BEST! As is hearing from readers!
Always,
Anne
Posted in
News
on 04/30/2017 08:05 pm